Exning.Net is a website developed by residents of Exning Village
All information and photographs are ©LAPOLLO Systems unless otherwise attributed. Comments & Queries to info@exning.net
Please note the site is under development and new pages will be added from time to time and formats may change.
Please see the "Small print"
Whilst every attempt is made to ensure accuracy of the information on this site, LAPOLLO Systems cannot be held responsible for any loss of time or money due to use of the information. This also true of sites with links from Exning.Net.
GDPR for Exning Enlistment Re-enactment
The GDPR, the General Data Protection Regulation, has been in operation since May 2017 and is enforceable from 25th May 2018.

Whilst Exning Enlistment Re-enactment (November 2014) was not an organisation as such, I (John Saville) still hold information about those who participated as explained below, and will comply with the requirements of GDPR in the following way:
1) The Information about you we collected and still hold is some or all of: your name, email address, phone number, gender, age (if under 18), the name of the enlister(s) you represented.
2) We need to retain this data as events will be planned later in 2018 to commemorate the centenary end of WWI and we would like to keep you informed.
a) Where and how it is stored: In spreadsheets saved on One Drive with password control
3) Who can view it / what they can view.
a) The DPO (Data Protection Officer) can see all information you provided
b) This may be shared with organisers of local events organised in connection with WWI.
c) Emails to the distribution list will be sent using "bcc" to prevent your email being shared.
4) You may provide compliance in a number of formats e.g. on paper, on line, etc and may have a copy of this policy by request to the DPO (email john-saville@ntlworld.com)
5) The DPO (Data Protection Officer) for EER is John Saville
6) You have the right to:
a) Be removed from the list etc; but this will affect your ability to learn of future activities
b) See what information we store about you, by request to the DPO, and we will provide this within 1 month.
c) Have your data deleted
d) Change details of the data
7) The data will not be shared with others other than as in 3b
8) We will retain the information until you request its deletion in case of other future events, e.g. centenary of War Memorial.
Rev 1.1 2018-03-18
You can indicate you agreement to EER holding data on you, or your family members under 18 below.
Please note we may hold information on family members who were under 18 when they participated but are now over 18. In that case please indicate below or by email to john-saville@ntlworld.com
Please note: For technical reasons this form will not work after March 31, 2018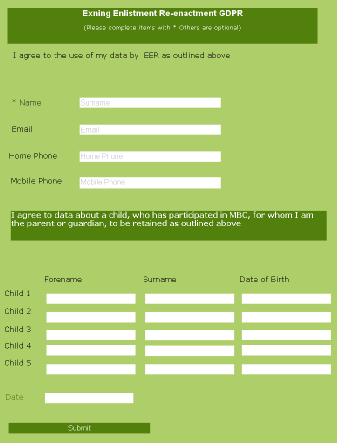 Please note this form is no longer active after March 31, 2018 (for technical reasons beyond our control).
We hope you will want to agree to EER holding personal data about your or your family as defined in our Privacy Policy (click here)
Please send an email to
John-saville@ntlworld.com
With the following wording,
"I agree that Exning Enlistment Reenactment may hold personal data about me and my children* listed below in line with its Privacy Policy"
Please then include your forename and surname and that information together with the date of birth for each of your children who have participated in the Exning Enlistment re-enactment
* delete these words if not applicable
Note: we need date of birth of any children as we will need to obtain their agreement when they attain 18 years of age.