Exning.Net is a website developed by residents of Exning Village
All information and photographs are ©LAPOLLO Systems unless otherwise attributed. Comments & Queries to info@exning.net
Please note the site is under development and new pages will be added from time to time and formats may change.
Please see the "Small print"
Whilst every attempt is made to ensure accuracy of the information on this site, LAPOLLO Systems cannot be held responsible for any loss of time or money due to use of the information. This also true of sites with links from Exning.Net.
Snowdrop Walk at Landwade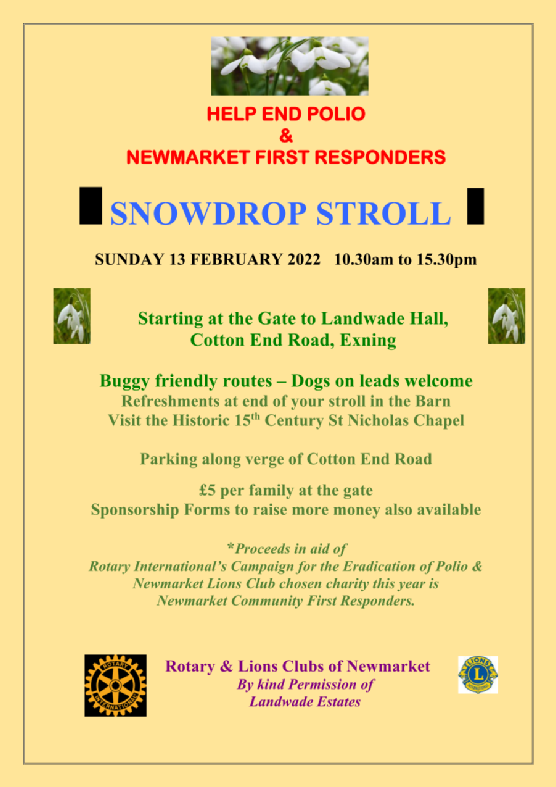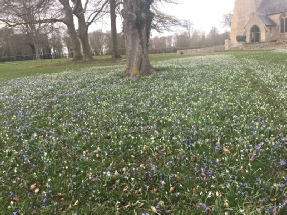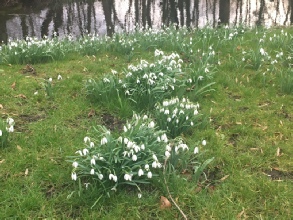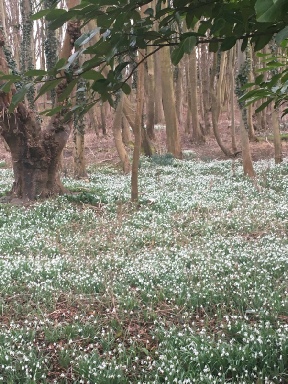 The Rotary and Lions Clubs of Newmarket are joining forces to organise a fund-raising Sponsored Snowdrop Stroll. The walk will take place on Sunday 13th February 2022 at the Landwade Estate from 1030 to 15.30. Parking will be along the verge on Cotton End Road Exning either side of the entrance gate to the estate. The historic St Nicholas, Landwade 15th Century Church adjacent to Landwade Hall will be open to walkers and guided tours can be arranged. The estate offers walks of varying distances, some of which are pushchair and wheelchair friendly. Refreshments will be available in the barn adjacent to the Hall.
The entrance fee is £5 per family and maps of the estate will be available at the gate. Money raised this year will go to the Rotary Foundation End Polio Now campaign and The Lions Club are rasing money for Newmarket Community First Responders.
When Rotary and its partners launched the Global Polio Eradication Initiative more than three decades ago, polio paralyzed 1,000 children every day. Great progress against the disease has been made since then. Polio cases have dropped by 99.9 percent, from 350,000 cases in 1988 in 125 countries to 5 new cases of wild poliovirus in 2021 in just two countries: Afghanistan and Pakistan. And we remain committed to the end. With polio nearly eradicated, Rotary and its partners must sustain this progress and continue to reach every child with the polio vaccine. Without full funding and political commitment, this paralyzing disease could return to polio-free countries, putting children everywhere at risk. Rotary has committed to raising US$50 million each year to support global polio eradication efforts. The Bill & Melinda Gates Foundation has pledged to match that 2-to-1, for a total yearly contribution of $150 million. "2020's Sponsored Walk allowed Newmarket Rotary Club to send £1000 to the International Foundation for the eradication of Polio which would pay for over 3500 vaccines for children." Rotary has contributed more than $1.9 billion to ending polio since 1985, including several thousand donated by Newmarket.
Newmarket Lions Club chosen charity this year is Newmarket Community First Responders who want a defibrillator which costs £900 and a razor chair that lifts the patient safely from the ground which is a staggering £2,500. Community first responders are volunteers who are trained by the NHS to attend certain types of emergency calls in the area where they live or work. Their aim is to reach a potential life-threatening emergency in the first vital minutes before the ambulance crew arrives. Their role is to help stabilise the patient and provide the appropriate care until the more highly skilled ambulance crew arrives on scene to take over the treatment. When a 999-emergency call is received, the call is prioritised to establish if it is suitable to send a community first responder. If so, the nearest available group is alerted. An ambulance will always be mobilised at the same time. Each community responder group has a mobile phone to communicate with at the point of that alert and beyond. The responder drives under normal road conditions. By virtue of being in the community, the average time to reach the patient should not normally exceed five minutes, depending on location. Once an ambulance car or ambulance arrives, the responder hands over to the crew and may be asked to assist.