Exning.Net is a website developed by residents of Exning Village
All information and photographs are ©LAPOLLO Systems unless otherwise attributed. Comments & Queries to info@exning.net
Please note the site is under development and new pages will be added from time to time and formats may change.
Please see the "Small print"
Whilst every attempt is made to ensure accuracy of the information on this site, LAPOLLO Systems cannot be held responsible for any loss of time or money due to use of the information. This also true of sites with links from Exning.Net.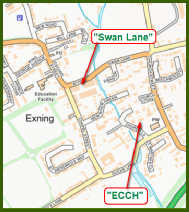 TFTF Is an open group for anyone wishing to come along alone or bring friends. Most meetings will
not have any structure leaving you to mix and mingle as you wish. You may even like to bring a
hobby with you and share your interest with others.
On occasions we will have a themed afternoon.
You may have a suggestion for a theme that we can organise for one of the meetings?
The meetings are free with Tea, Coffee and biscuits being served.
Later in the year we are having a Harvest Special and a Christmas Party with lots in between.
For further information please contact:
Christine Pearce
Phone 01638 664314 (Please leave a message and I will return your call.)
email christine.m.pearce2020@gmail.com
Sarah Price:
email exningoutandabout@gmail.com
Time For Tea and Friendship (TFTF)